Pumpkin and Spice – So Very Nice
If you're like us, you love the fall with all the pumpkin flavored items showing up all around you. Many a line has been seen already for those seasonal treats of pumpkin spice latte or pumpkin pie slices. But here are a few pumpkin spice items you may not be aware of that we wanted to bring to your attention. They're ones you can keep on you or use to make your own treats at home. Chances are that if you're a fall flavors pumpkin fan, one of these will tickle your fancy!
Trader Joe's Pumpkin Cornbread Mix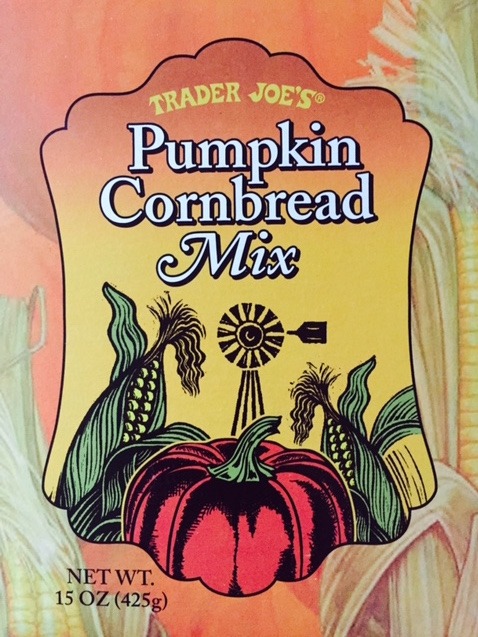 When you're thinking about favorite fall sides, Cornbread marks the spot for comfort foods. So what could take it to an even higher level?  Adding fall pumpkin deliciousness to the cornbread mix. and the only thing that could possibly improve upon the bliss that is Trader Joe's Cornbread Mix is pumpkin. So we did that. And TJ worked hard to make it just right, not to dense or crumbly, not too sweet or soggy. Just the perfect blend waiting for a little swipe of honey butter. Or imagine this – putting it into you turkey stuffing! Check it out at your neighborhood Trader Joe's – but only during Pumpkin season!
Torani Pumpkin Pie Syrup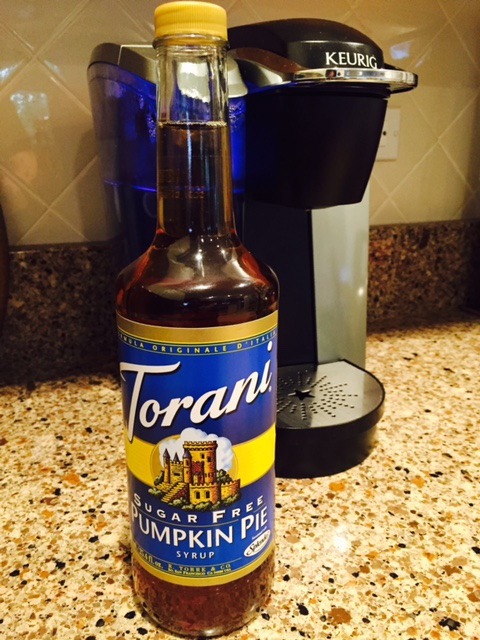 If you love that touch of pumpkin delight in your coffee, protein shake, frappe or anywhere else, you now can have it your very own way without having to stand in line. Torani, known for its amazing syrups has found a way for you to dress your drink at home. This delicious syrup contains that essence of pumpkin pie filling – nutmeg, cinnamon and all. And just in case you're interested in some more ideas, they have more than 20 simple recipes  on their website. And if you're watching the sugar, they've got you covered with Sugar Free Pumpkin Pie Syrup. You'll find it at many fine grocery stores and on their site.
Arnold® Limited Edition Pumpkin Spice & Roasted Seeds Bread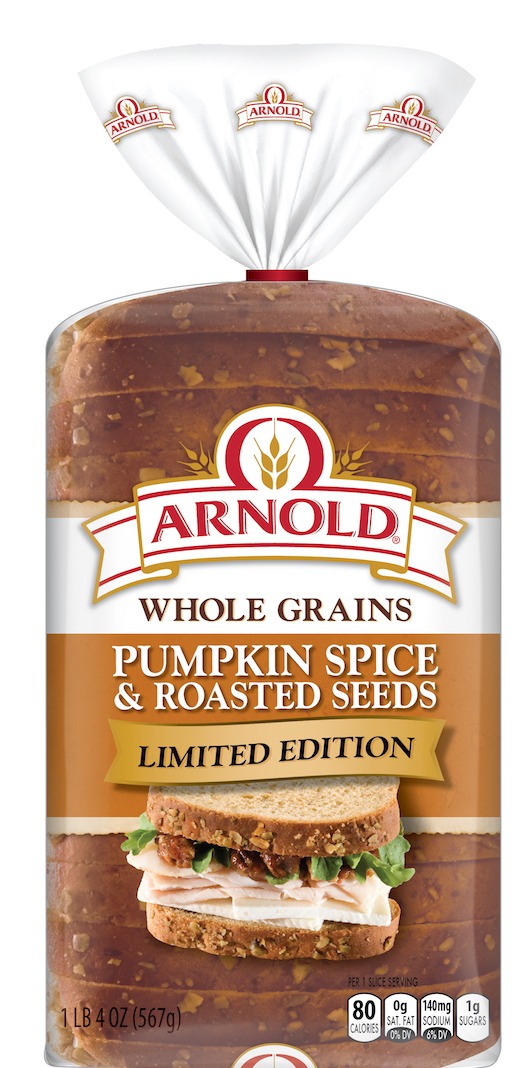 Looking to spice up your sandwiches or French Toast? Here's one product just right for you. Filled with spices like cinnamon, ginger, nutmeg and cloves, Arnold® Limited Edition Pumpkin Spice & Roasted Seeds Bread deliciously evokes the flavors of fall. At 90 calories per serving, this limited edition whole grains bread satisfies 9 grams of whole grains per slice and contains no high fructose corn syrup, no artificial colors or flavors and is cholesterol free. Don't miss out, the Arnold® Limited Edition Pumpkin Spice & Roasted Seeds bread will only be available through December throughout the Eastern U.S., and Oroweat® Limited Edition Pumpkin Spice & Roasted Seeds bread will be available throughout the Western U.S.
Trader Joe's Pumpkin Bread & Muffin Mix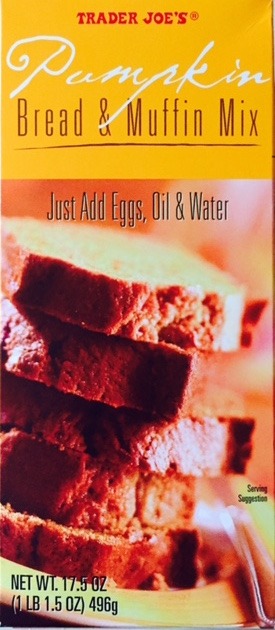 If you love the idea of fresh baked pumpkin bread or muffins but don't have the time or are just not cut out to be a kitchen ninja, fear not. Trader Joe's comes to the rescue with a simple, reliable baking mix that works its magic every time. All you do is add eggs, oil and water and you'll be rewarded with a wonderful loaf of light and tasty pumpkin bread or a dozen muffins. You can add raisins or nuts, if you like to snaz it up for your own tastes. But other than that the only choice you need to make is which pan to use. This mix uses no synthetic colors, artificial flavors or preservatives. And, it's Kosher certified. Find it on the shelf at your local TJ while its still pumpkin time.
ChapStick® Pumpkin Pie


And now for something completely different, how about Pumpkin Pie to protect your lips when the wind is whipping around this fall? ChapStick® Pumpkin Pie will keep lips soft, smooth and happy all season long. It's fun to use and the scent is great. The one-count loose sticks of Pumpkin Pie will be available at Walmart, CVS and Walgreens for just $1.00.
We were provided with samples of ChapStick® Pumpkin Pie to try but were not financially compensated. All opinions are our own.
Be sure to also check out our post with an Easy To Make Pumpkin Soup Recipe. It's not only simple to make it's delicious!
These are just a few of the many wonderful pumpkin-centric products available this time of year. Let us know what are some of your favorites. We can't wait to try them all!
THE QUICK BITE: We love pumpkin season and all the pumpkin and spice products that show up around this time. Here are a few offerings we thought you might enjoy if you're a pumpkin lover like we are.