If you're like us, you love the fall with all the pumpkin-flavored items showing up all around you.  But here are a few pumpkin spice items you may not be aware of that we wanted to bring to your attention. Chances are that if you're a fall flavors pumpkin fan, one of these will tickle your fancy!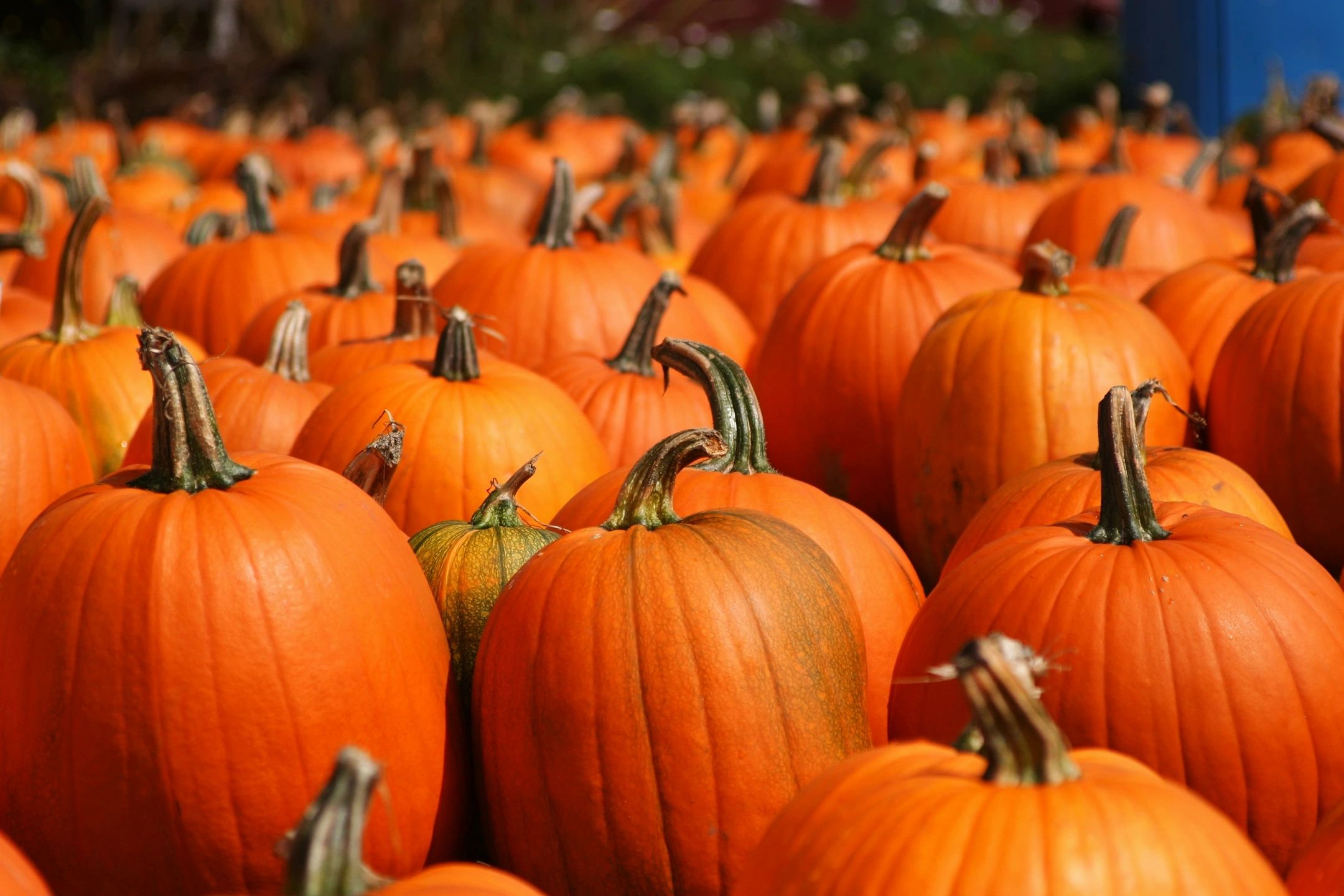 Trader Joe's Brings Fall to Your Home
If you love the idea of fresh-baked pumpkin bread or muffins but don't have the time or are just not cut out to be a kitchen ninja, fear not. Trader Joe's comes to the rescue with a simple, reliable baking mix that works its magic every time. All you do is add eggs, oil, and water and you'll be rewarded with a wonderful loaf of light and tasty pumpkin bread or a dozen muffins. You can add raisins or nuts if you like to jazz it up for your own tastes. But other than that the only choice you need to make is which pan to use. This mix uses no synthetic colors, artificial flavors, or preservatives. And, it's Kosher certified.
Check it out at your neighborhood Trader Joe's – but only during Pumpkin season. While you're there check out the 20 other pumpkin and fall-flavored items you can find at TJ's.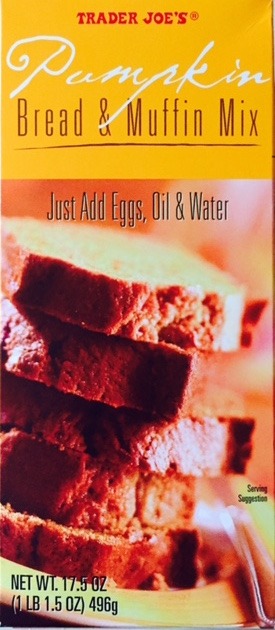 Torani Pumpkin Pie Syrup
If you love that touch of pumpkin delight in your coffee, protein shake, frappe, or anywhere else, you now can have it your very own way without having to stand in line. Torani, known for its amazing syrups has found a way for you to dress your drink at home. This delicious syrup contains that essence of pumpkin pie filling – nutmeg, cinnamon, and all. And just in case you're interested in some more ideas, they have more than 20 simple recipes on their website. And if you're watching the sugar, they've got you covered with Sugar-Free Pumpkin Pie Syrup. You'll find it at many fine grocery stores and on their site. Starting at $13.49 on Amazon.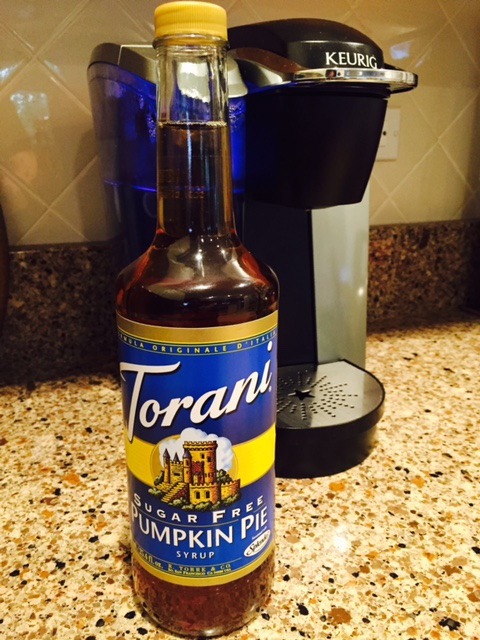 Caveman Coffee Pumpkin Spice Cold Brew Latte Limited Edition
This delicious drink is a holiday in a can. Pumpkin, cinnamon, nutmeg, and clove in a cold brew latte. It's even sweetened with just a wee bit of stevia so the drink is sugar-free. It's only available for a limited time so check it out today at Caveman Coffee.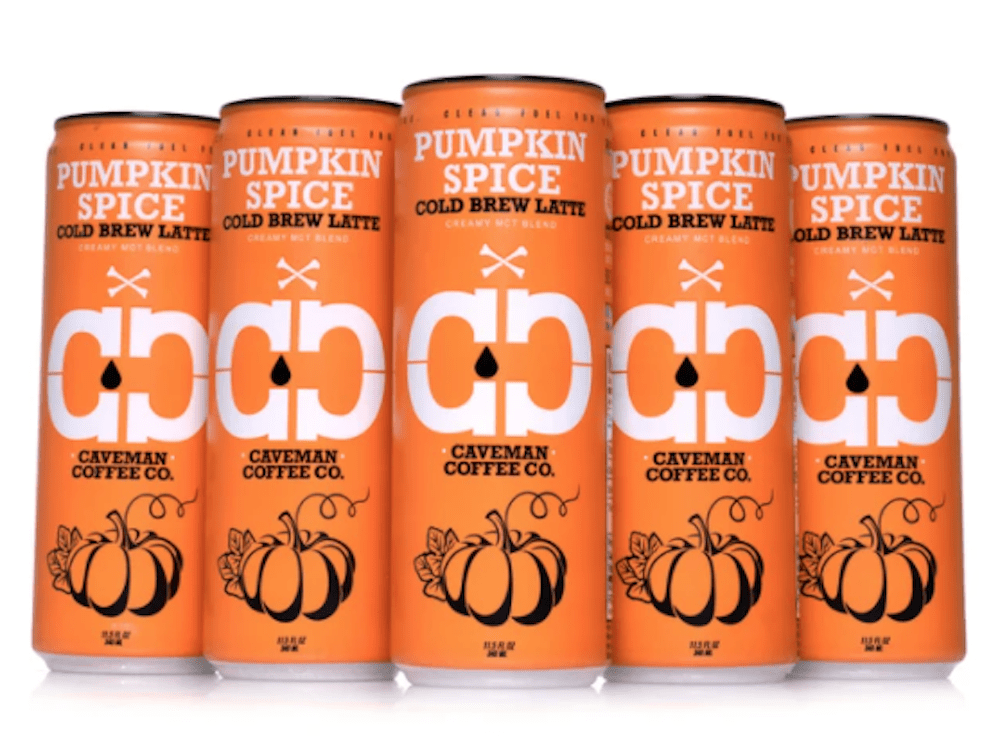 Pumpkin Spice PB Fit Peanut Butter Powder
This all-natural product has 90% less fat and one-third the calories when you compare it to regular peanut butter. Just four ingredients: peanuts, coconut palm sugar, spices, and salt. And it's gluten-free! Easy to add to smoothies or use it in baking too. Starts at $11.95 on Amazon.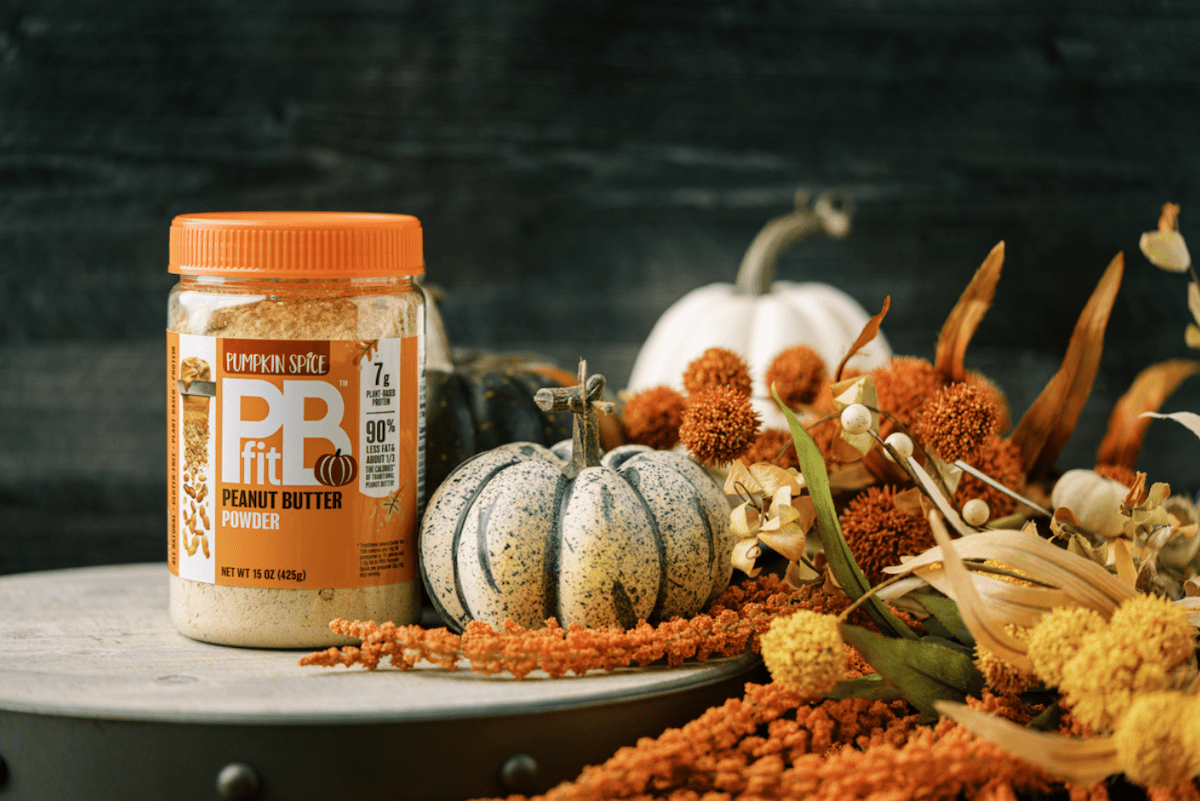 Paleonola Grain-Free Pumpkin Pie
If you're looking for a delicious snack that's also healthy and loaded with real ingredients. Paleonola is for you! Founded by a couple in Rhode Island that was looking to create the best-tasting granola using the best ingredients they could find. We love their dedication to their craft.
We shared some with our neighbor and she said she would become a lifetime ambassador for them! It's just that good. And wouldn't you know it they have a pumpkin pie-flavored Paleonola that is just perfect for the fall season? Be sure to check out their other flavors too – maple pancake, cinnamon blueberry, pina colada, chocolate fix, and apple pie.
If you're looking for something to grab and go they have a good Paleonola bar selection too. Almond butter and jelly, dark chocolate sea salt, and chocolate chip bar. Check them out at Paleonola.com prices start at $8.99.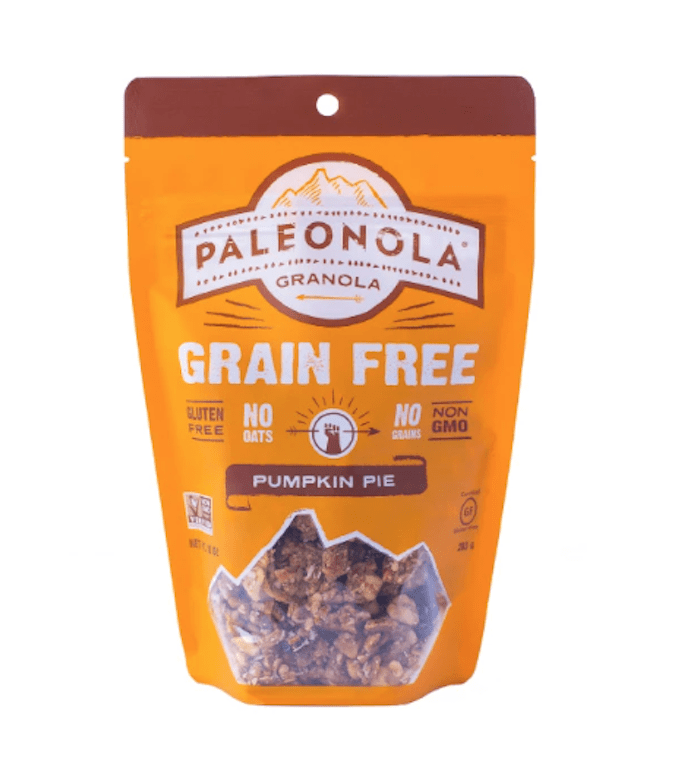 Adams Apple Pumpkin Butter
When Adams Apple founder, Theresa Adams says that customers say her products, "tastes like memories" she isn't kidding. They have a full array of apple butter flavors but the pumpkin butter is like spreading pumpkin pie on your favorite toast, cracker, fruit, or just straight out of the jar. We also love the handy wooden serving spoon that comes with the jar.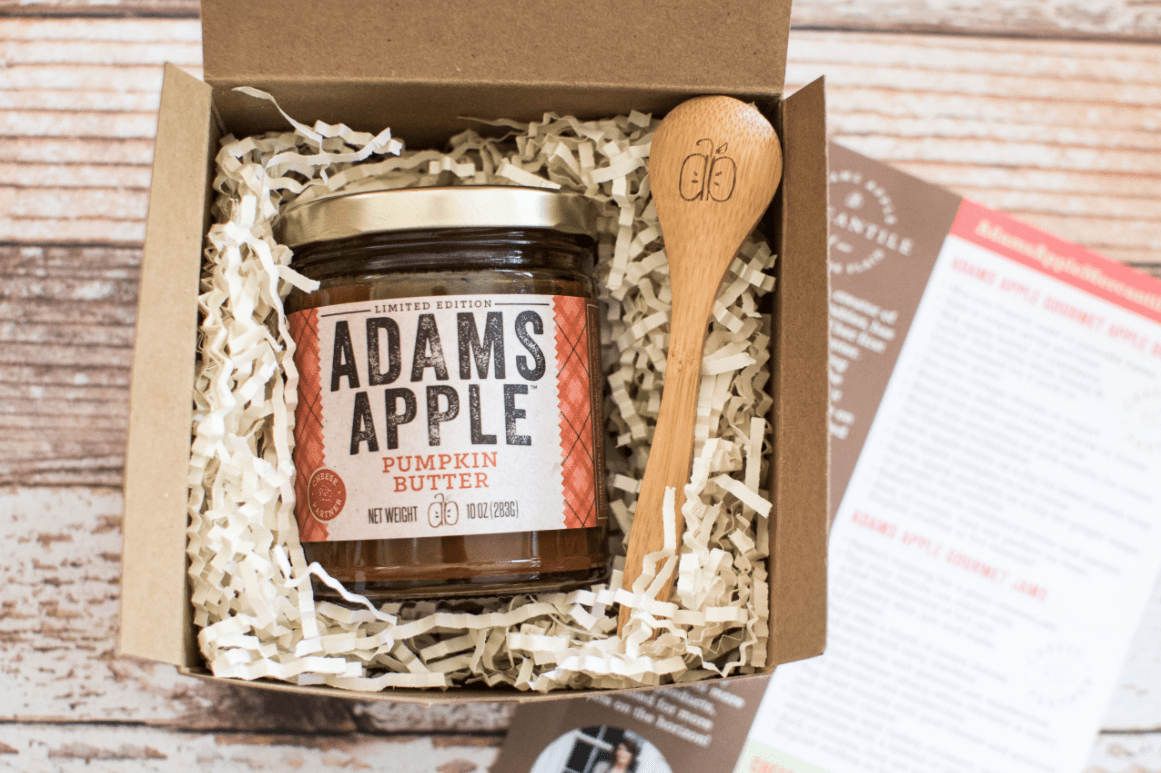 Pumpkin Pie Flavored KitKat Bars
We know that many of our traveling friends love to collect all the flavors that KitKat produces around the world. But have you tried the pumpkin pie-flavored cookie candy treat? If you have let us know what you think. You can find them on Amazon.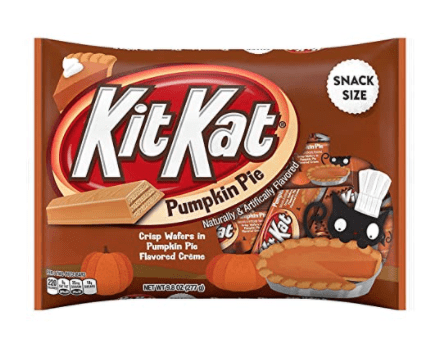 ChapStick® With A Fall Twist
And now for something completely different, how about Pumpkin Pie to protect your lips when the wind is whipping around this fall? ChapStick® Pumpkin Pie will keep lips soft, smooth, and happy all season long. It's fun to use and the scent is great. The one-count loose sticks of Pumpkin Pie will be available at Walmart, Amazon, CVS, and Walgreens for just $1.00.

Be sure to also check out our post with an Easy To Make Pumpkin Soup Recipe. It's not only simple to make it's delicious!
Pepperidge Farm Soft Baked Cookies 
If you don't have time to bake yourself these pumpkin cheesecake Dessert Shop cookies from Pepperidge Farm should be in your pantry. Throw them in the oven to heat them up a little and enjoy just like home-baked. This is a best seller item on Amazon.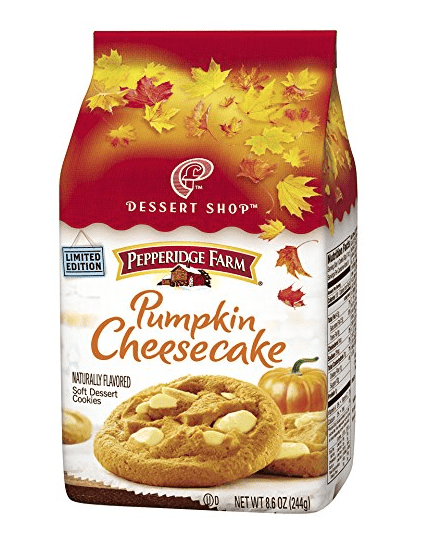 These are just a few of the many wonderful pumpkin-centric products available this time of year. Let us know what are some of your favorites. We can't wait to try them all!
Pin it!