We recently spent the night in La Jolla, California. We'd like to thank the Grande Colonial Hotel and the San Diego Tourism Authority for their help planning our trip. We were not paid for our reviews. All opinions reflect our own opinions and experiences.
On a recent visit to Los Angeles we decided to take a quick break from busy L.A. for a drive with Diana's Mom to La Jolla. We thought a little sea and sun would be perfect for three midwest girls.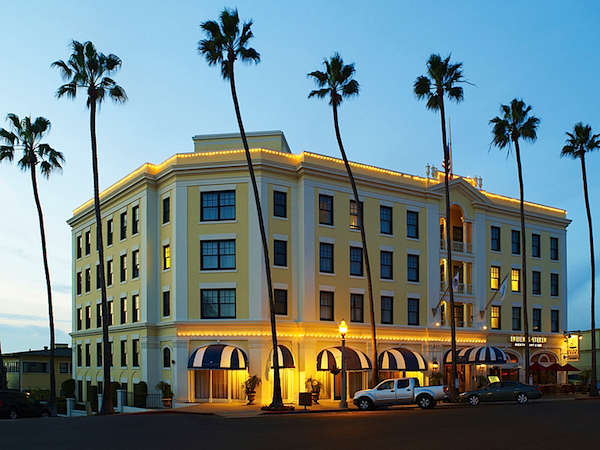 Hitting the road early on a sunny day ensured that the two and a half-hour ride was smooth and uneventful. We arrived in La Jolla and drove up Prospect Street to our destination, the Grande Colonial Hotel. When you first arrive at the Grande Colonial you are instantly transported back in time. Elegant tall palm trees at the entrance invite you into the beautifully decorated lobby.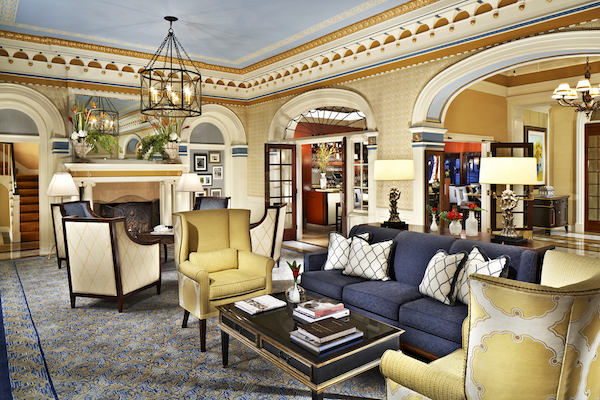 The AAA Four Diamond-rated Grande Colonial property may be over a hundred years old but the meticulous renovation immediately makes you feel welcomed and spoiled.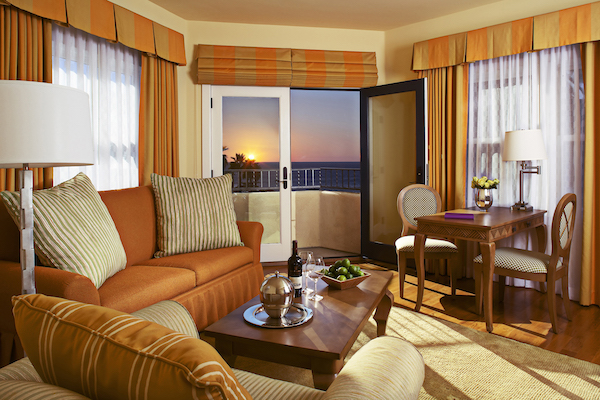 Just steps from the ocean the hotel offers rooms with your choice of city or ocean views. The Grande Colonial is the only original hotel left in La Jolla. It maintains its history while providing all modern amenities and comforts for its holiday adventures and business road warriors. The NINE-TEN restaurant and bar in the lobby is a perfect spot to enjoy a drink or meal.
So Much to See & Do in La Jolla!
The hotel is conveniently located on the main strip of Prospect Street in downtown La Jolla. A short walk in any direction will have you exploring high-end La Jolla shopping, galleries, jewelry stores, and restaurants. Convenient and comfortable, the hotel a perfect hub for your visit to La Jolla. We started our trip by strolling down Prospect Street to find a place for lunch. We had two challenges on our walk. First, way too many fun shops to stop in and explore. Once on our way again we encountered challenge number two. So many choices for lunch!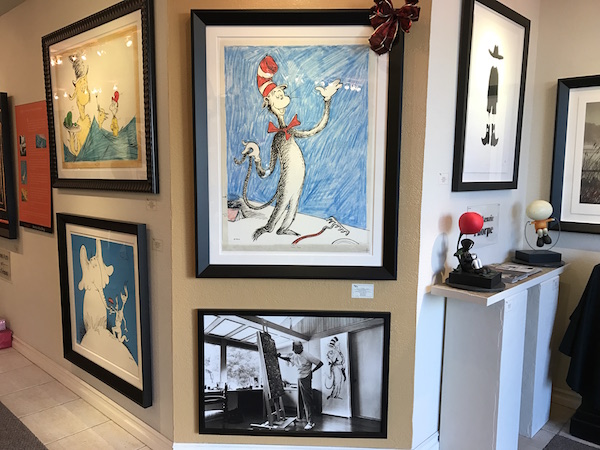 Before making our decision we stopped in at the delightful Art of Dr Seuss. This combination, museum gallery and storehouses many works from Theodore Geisel. Every year the family estate releases more works so you're bound to see something you have never seen before. While there, we were treated to a sneak peek at the latest release and enjoyed hearing more about the history of the artist and his art from the friendly and knowledgeable staff. We just love Dr. Seuss and really enjoyed touring the museum.
Fun La Jolla Fact: Ted Geisel (Dr. Seuss) lived atop Mont Soledad in La Jolla where he created many of his wonderful books and characters.
Let's Eat! 
Finally, inspired by the waves and sunshine, we found ourselves delighted by the idea of Hawaiian tastes at Duke's La Jolla for lunch. Remembering fond visits to Duke's on Waikiki Beach in Honolulu, we were excited to eat here. Although it was very busy and bustling we were seated pretty quickly. Our server was super friendly, helped us with the menu and got our drinks out very fast.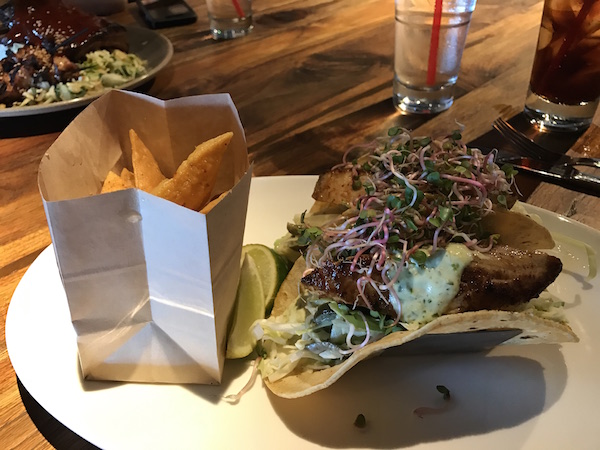 We shared an order of fresh fish tacos, a sampler platter that included Duke's tasty ribs with mango bbq sauce, grilled Huli chicken, steamed jasmine rice, macaroni salad and slaw, and the Poke tacos featuring raw ahi, shoyu, Maui onions, avocado, and wasabi crème Fraiche. Everything was delicious and perfectly portioned for lunchtime.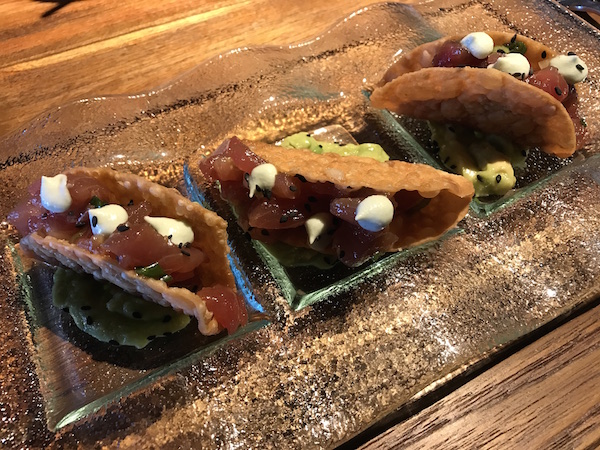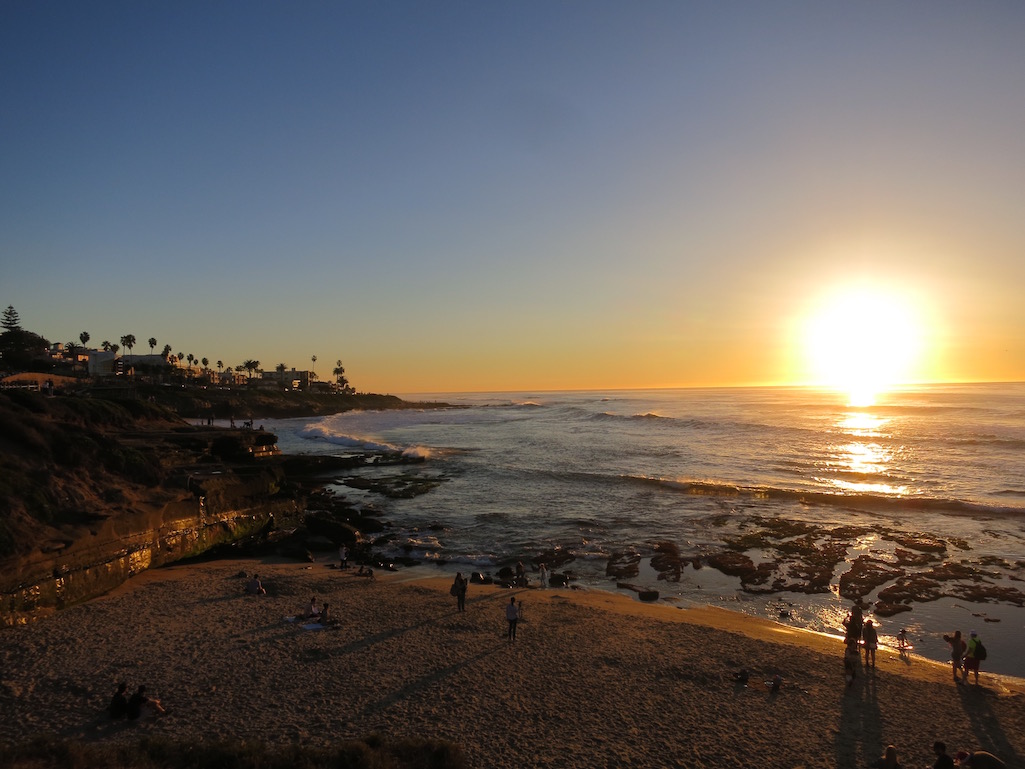 Time For A Rest
After a quick nap back at the Grande Colonial, we were up and out to watch the sunset on La Jolla Cove. We had fun watching the sea lions relax on the rocks as we silly tourists tried to get the perfect photo. After many attempts, we decided to just relax and enjoy nature's beautiful end of day display.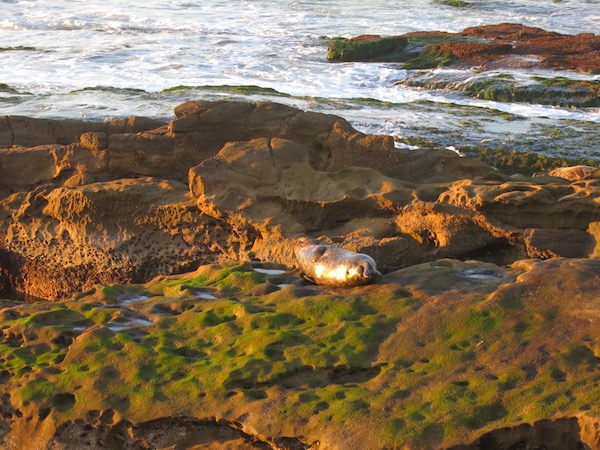 Plan to spend some time strolling around La Jolla Cove and La Jolla Underwater Park. If you adore nature and animals like we do you'll be treated to teeming marine life, sea lions, seals and many types of birds.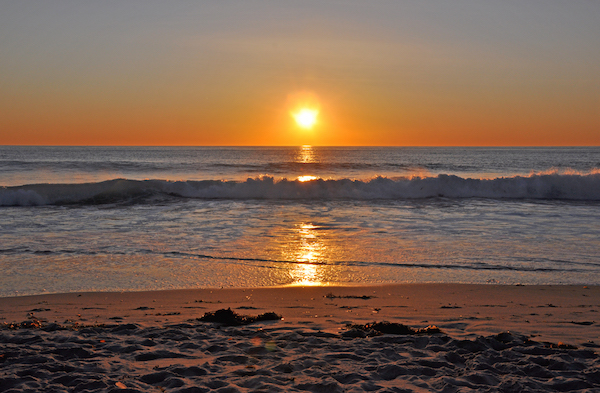 Even a short walk on the beach lets you explore the amazing tide pools. You can also head to the Seven Sea Caves, which are only accessible by kayak or snorkeling to continue your exploration.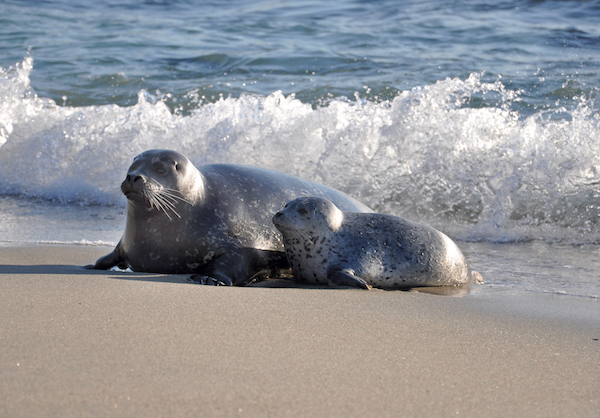 A walk along the pathway at the Children's Pool, originally intended as a swimming area for kids, provides a close-up look at seals playing and enjoying the beautiful and protected cove.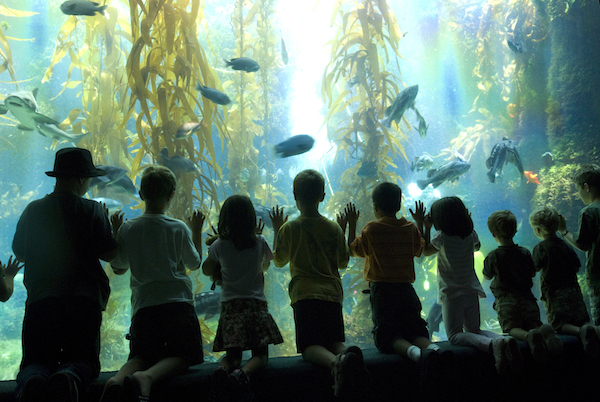 If you want to experience even more be sure to visit the Birch Aquarium at Scripps. Over 60 tanks of beautiful marine life that include coral reefs, sharks, jellyfish, and outdoor tide pools. An interactive museum with research discoveries on climate, earth and ocean science make this a learning experience you won't forget.
Gourmet Dining in La Jolla
Sun's down and it's time to head over to George's at the Cove one of the best restaurants in La Jolla for dinner. Little did we know that we were headed for a very memorable meal in La Jolla.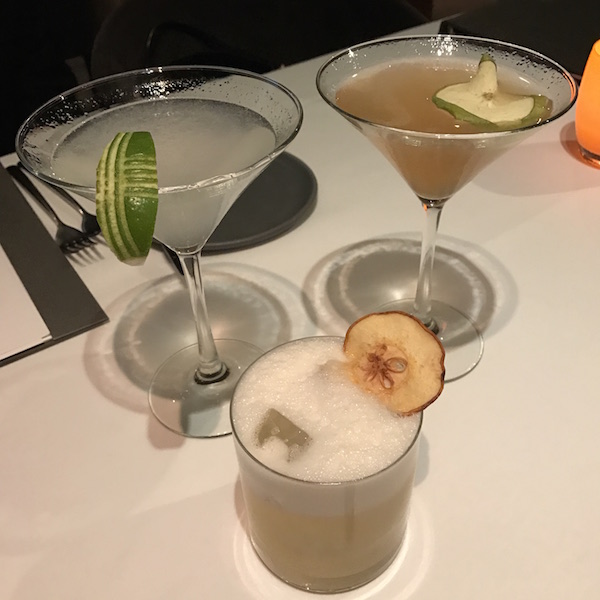 George's at the Cove has two levels for dining a more casual rooftop that offers a terrific view of La Jolla Cove and a lower level that features California Modern by award-winning Chef Trey Foshee, and as we discovered, an eclectic menu sure to please every food traveler.
You'll want to order one of their unique hand-crafted cocktails as you ponder exactly how you're going to choose what to order from this tasty menu.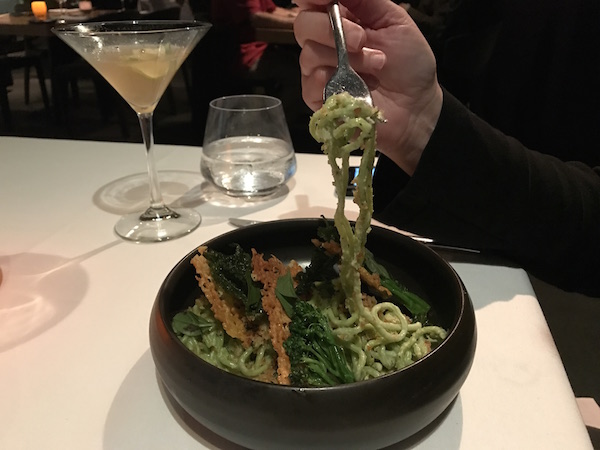 For our full experience and meal at George's at the Cove check out our full view of Dinner at George's at the Cove.
It's Another Sunny Day in La Jolla
After a wonderful dinner and peaceful night's sleep at the Grande Colonial Hotel, we were ready to take on the day.
As luck would have it, we woke up to a perfect day. The sun was shining bright, it was 75 warm degrees, and it was Diana's birthday! Mother Nature ordered up a beautiful sparkly California day for my little California girl.
We packed up, checked out and made one last stop at the beach to see the ocean. Dogs, birds, sea lions were all out as if to wish Diana, a passionate animal and nature lover, a very happy birthday.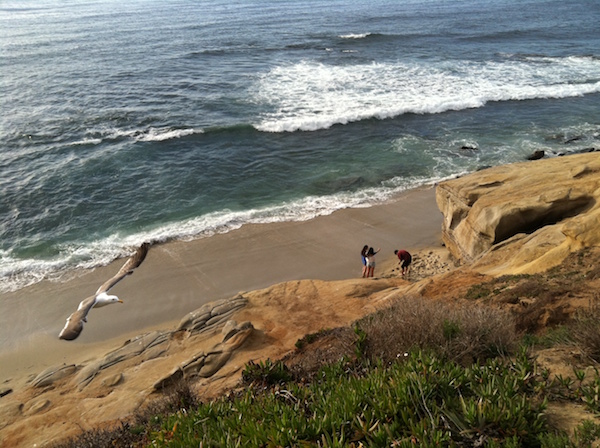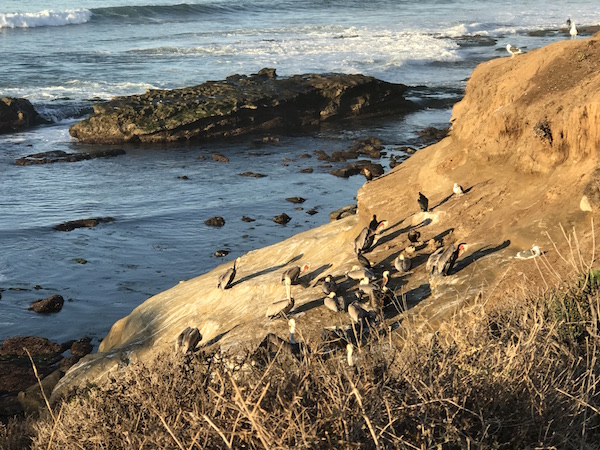 After doing some exploring we were just a wee peckish and in need of brunch. We headed over to Shorehouse Kitchen.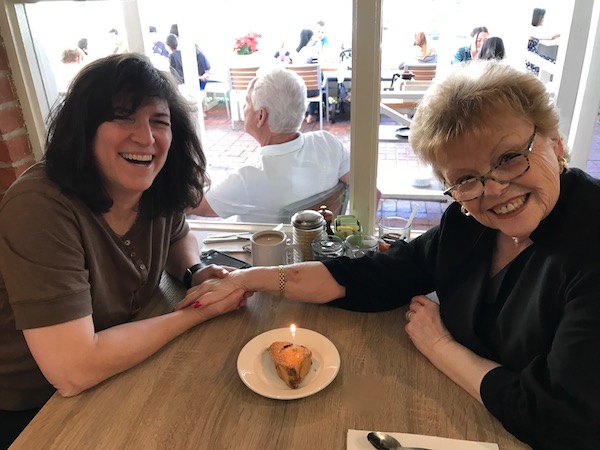 Time To Eat Again
After mentioning to our server that it was Diana's birthday she brought a birthday scone for us to share and enjoy. We really loved the ambiance of this laid back California style eatery.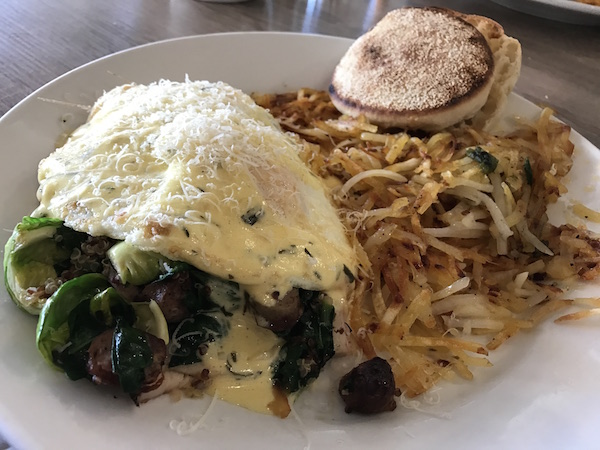 Their menu includes breakfast and lunch items with some of the freshest ingredients around. Fresh squeezed orange juice from California Valencia oranges is must!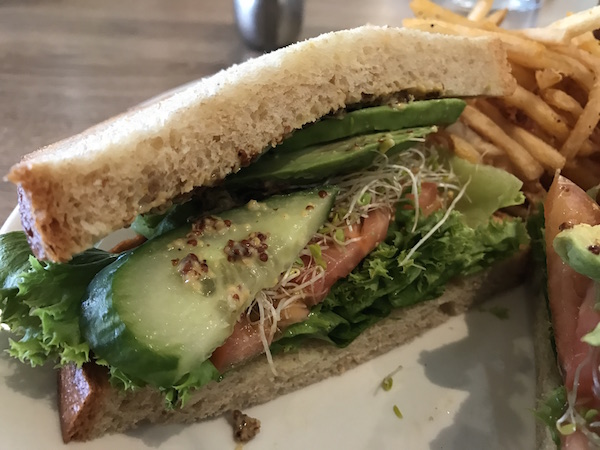 We couldn't decide between breakfast and lunch so we had a little bit of both. The Cucumber and Avocado Veggie Sandwich (a real California style sandwich) with alfalfa sprouts, tomato, toasted sunflower seeds, white cheddar, lettuce, cream cheese & whole grain mustard on fresh whole wheat bread and the Roasted Turkey and Brussels Sprouts Benedict with turkey sausage, quinoa, organic baby spinach, Béarnaise sauce topped with parmesan were both terrific choices.
Dog-friendly the Shorehouse also offers a full Doggie Menu.
More To See
Along the route to the Shorehouse Kitchen, you'll drive on Torrey Pines Scenic Drive. You can stop and watch the hang gliders and paragliders soaring along the coastline at Torry Pines Glidersport. If you're adventurous you might want to even try it yourself!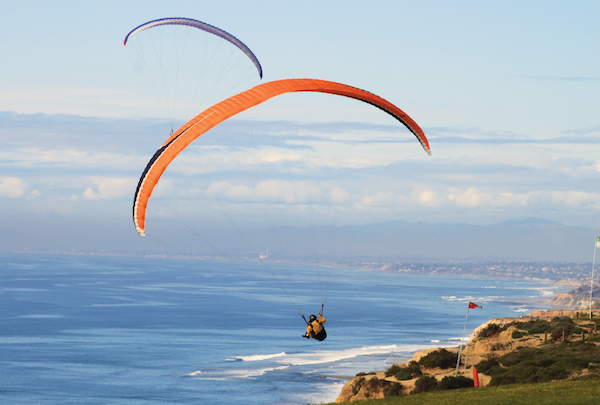 Heading Back for More Things to Do in La Jolla
With full stomachs and the sun shining we needed to head back to La-La Land. We had a delicious and wonderful time in La Jolla. Our only regret is that we couldn't spend more time there. We wanted more time to enjoy the heated swimming pool at the Grande Colonial Hotel and to enjoy a round of golf or just relax watching the crashing waves at La Jolla Cove. We'll definitely need to return and continue our exploration of this lovely, peaceful town on the ocean.
If you're visiting the area, La Jolla is about a two and a half-hour drive from Los Angeles and a twenty-minute trip from San Diego.
For more information about things to do in La Jolla check out sandiego.org.  To plan a trip to La Jolla or anywhere else your heart desires check out the Low-price guaranteed on Viator. 
Updated February 2020.
Pin to your Travel Boards on Pinterest